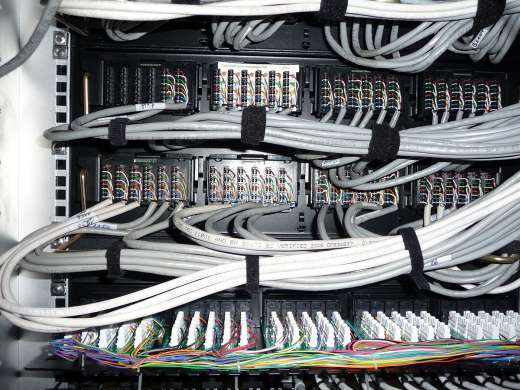 Copper and fibreglass cabling systems 
Heinen Electrotech designs and installs extremely high-performance, upgradeable cabling systems that cover all of your company's current and future communication needs. 
We install cabling to carry voice, image, signals and data over networks designed for very high output applications to meet the communications needs of today and tomorrow.     
The installation of UTP or FTP copper with single or multi-mode optical fibre enables the high throughput. 
Heinen Electrotech provides test reports for all copper and fibre optic connections compliant with the standards in effect.
Thanks to our certifications, the different types of cabling used are covered by a manufacturer's warranty that can be as long as 20 years depending on the type of cabling selected.
Fibre optic work
Heinen Electrotech installs optical fibre cables and microtubes in ducts which can reach up to 1500 m by segment.
We also install optical fibre cable above ground between poles and on building façades.
Thanks to our fully equipped laboratory trucks, we splice using special welders and do bi-directional measurements using OTDR which are always maintained at the leading edge of technology. 
Electricity for communication networks 
Heinen Electrotech has specialised in equipping IT rooms and data centres for many years now. We work on data cabling as well as on all related equipment, and particularly, electrical power.
We excel in techniques for providing uninterrupted power to vital equipment that cannot fail. This includes sizing and installation of UPS systems and of extremely reliable switching and distribution panels.
Our data network approvals and certifications
Although our equipment allows us to work with all of the different brands on the market, we primarily use the equipment of our partner manufacturers and are certified by them. Our well-known partners enable us to provide additional warranties. They include Corning, Nexans, Panduit, Systimax and Tyco.
Thanks to our approvals, which we renew on a regular basis, we are authorised to work for leading companies such as ORES, Electrabel, Tecteo/VOO, etc.